Geo Tech heating and cooling is located St. Clair County in Yale, Michigan. We offer an informative page here about the process of geo thermal heating and cooling. Please feel free to contact us any more questions. HOwever we are not only about Geo Thermal! Remember we also offer other methods of heating and cooling as well as other services. Check out our services menu for more info.
How Geothermal Works
Outdoor air temperatures vary greatly throughout the year while temperatures underground stay fairly constant. The earth absorbs and stores approximately 47% of the sun's solar energy. As a result, the temperature of the earth four to six feet below grade is fairly moderate and stable. The underground temperature in northern climates is approximately 45° and in southern climates it is in the range of 70° year round. The geothermal system takes advantage of this stored energy by using it to provide the most energy efficient heating and cooling system available.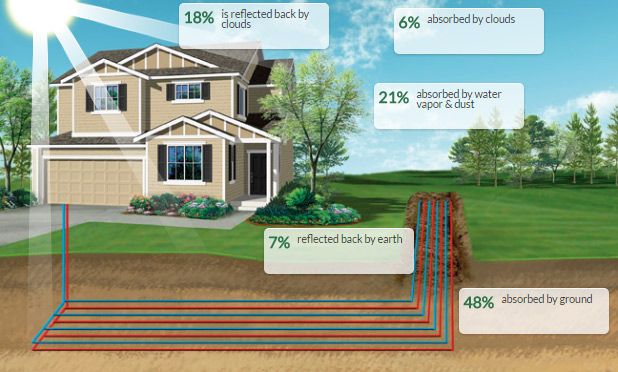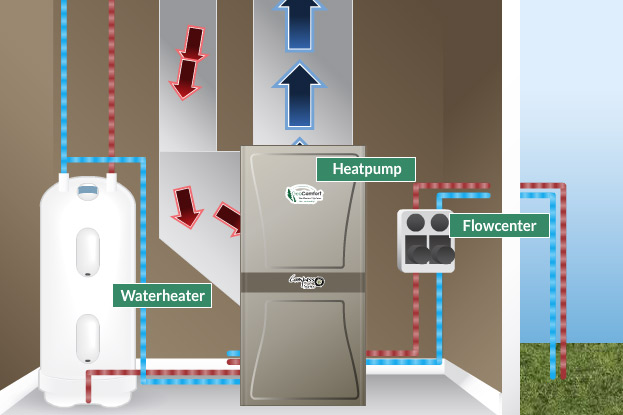 Rather than generating heat, a geothermal system transfers heat from one place to another. The heat exchanger, commonly referred to as a closed loop system, is buried in the ground and circulates a water solution through a series of pipes. This solution captures the stored solar warmth and delivers it back to the geothermal system located in the house. The geothermal unit then transfers the solar heat throughout the house using standard forced air ductwork or radiant floor heat to deliver comfortable indoor temperatures during the winter.
The same geothermal unit and heat exchanger will reverse this cycle during the cooling season to provide air conditioning. The system removes heat and humidity from the air, transfers and deposits that heat back into the earth through the same loop system.

The Science Behind the Magic
The heat exchanger, also known as the loop system, captures the stored solar energy in the ground and delivers it back to the geothermal system in the house. There are 4 different types of loops.
Your loop system is the heart of geothermal technology. Regardless of the option you select, it will deliver over 500% efficient comfort and savings for many years into the future. Your local geothermal dealer will help you select the proper loop system based on a site survey and by conducting a detailed energy analysis of your home. Installing a geothermal loop system is like getting a 70% discount on energy for the life of your home.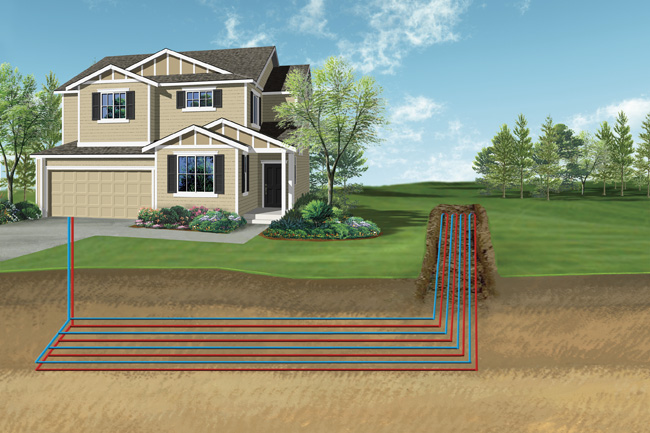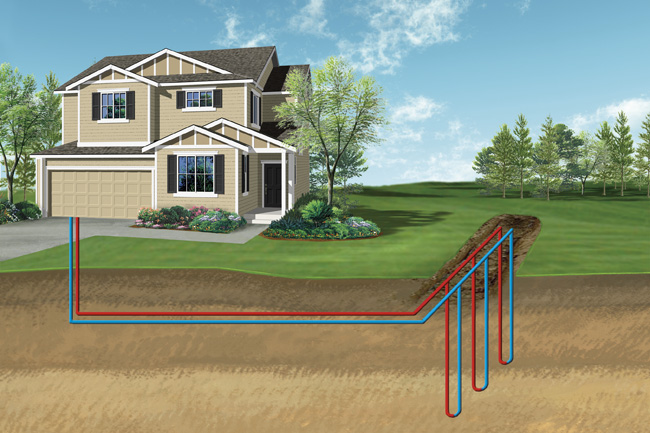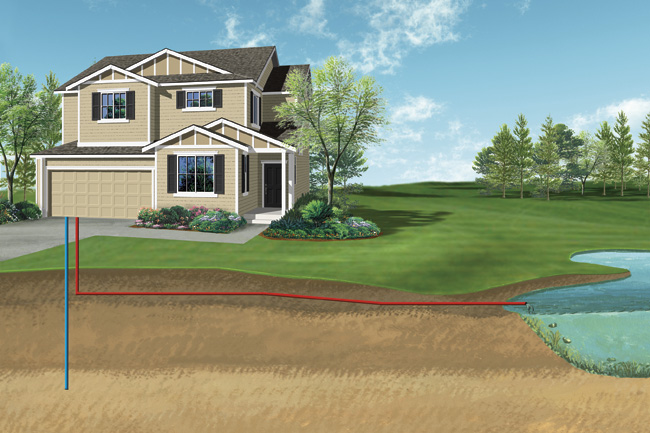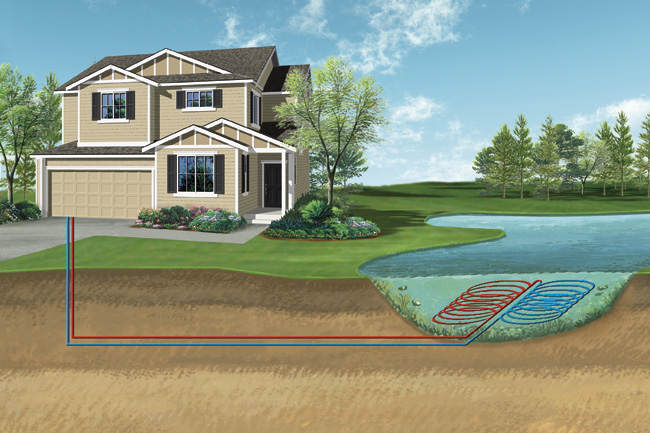 Applications
GeoComfort is proud to provide highly efficient, reliable and quiet operating, year-round comfort solutions for your home or business. Our diverse product line offers a solution for any application. GeoComfort Systems are manufactured in the heart of America. Pride in workmanship has been deeply embedded in the culture of our company. Every department places a high value on integrity and complete customer satisfaction. "World Class Service - Hometown Values" is far more than a slogan, it's a way of life.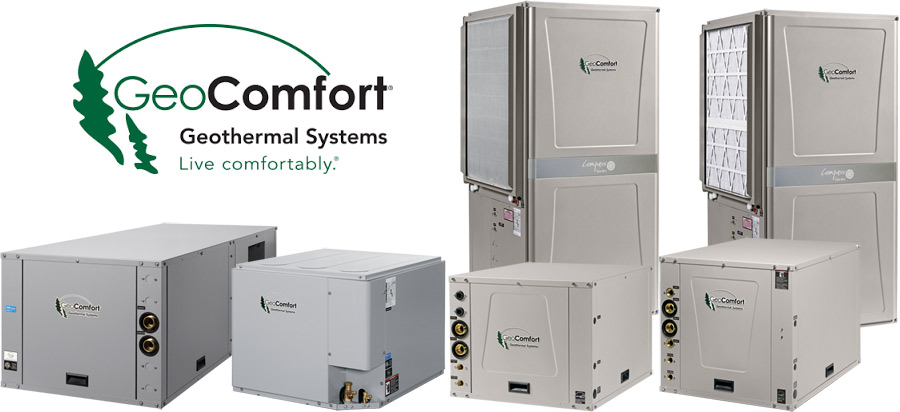 Installation Options for Every Home
Ducted Geothermal System
Forced air applications - Main floor installation shown (other options exist) - Shown with optional preheat and hot water tank - Ideal for new construction and replacement/retrofit - Ducted/Radiant Geothermal System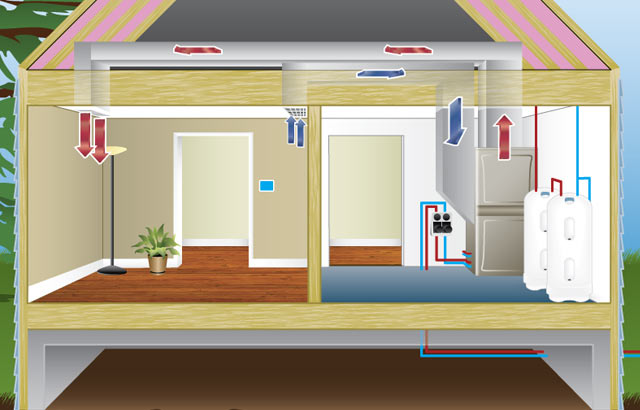 ---
Forced Air and Radiant Floor
Basement installation shown (other options exist) - Shown with optional preheat and hot water tank - Ideal for new construction and replacement/retrofit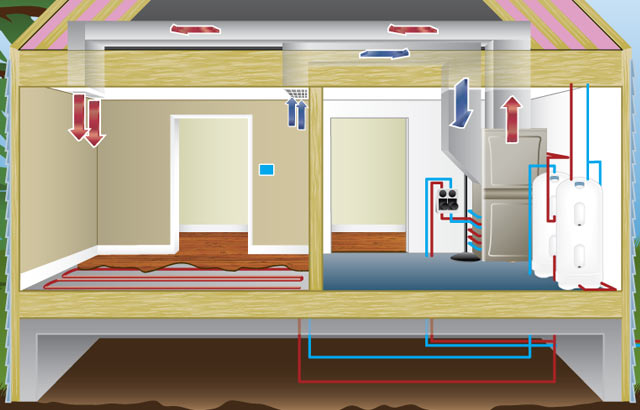 ---
Hybrid Geothermal System
Forced air applications - Basement installation shown (other options exist) - Use with furnace and/or air handler to create "dual fuel" system - Ideal for new construction and replacement/retrofit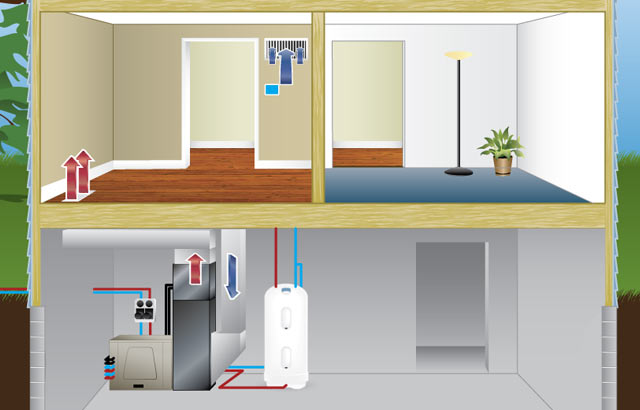 ---
Radiant Geothermal System
Radiant floor applications - Basement installation shown (other options exist) - Ideal for new construction and replacement/retrofit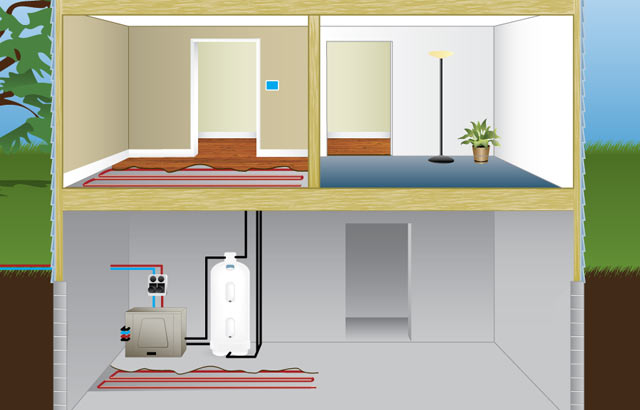 Why Geothermal? The benefits are unmatched…
The U.S. Environmental Protection Agency has recognized geothermal heating and cooling systems as having the lowest life-cycle cost of all heating and cooling systems on the market today. That means lower maintenance costs and longer life expectancy over more traditional systems. But, the benefits don't stop there…

Safety: Geothermal offers one of the safest systems available because the system does not rely on fossil fuels to heat or cool your home. The unit runs on a small amount of electricity, meaning no uncontrolled combustion, hazardous fumes, or the risk of carbon monoxide poisoning.

Lower utility bills: An efficiency rating of 400-500 percent means you're getting the best value for your money. An efficiency rating is the ratio of heat actually generated versus the amount of energy used to produce heat. A rating less than 100 percent means you are losing heat, and even the most efficient furnaces are always under 100 percent.

Environmentally Friendly: By using a modest amount of electricity and not burning fossil fuels, we can significantly reduce our impact on the environment. Versus a traditional system, a standard 3-ton residential geothermal system produces approximately one less pound of carbon dioxide for every hour of use. Over 20 years, that's like planting 120,000 acres of trees or taking 58,000 cars off the road!

Quiet Comfort: Forget about hot and cold spots or noisy air conditioners. Not only are geothermal systems extremely quiet, but also your indoor air temperatures remain at consistent levels. Our systems also demonstrate increased air purification and dehumidification versus conventional systems.

Bonus Hot Water: Offering more than comfortable living, geothermal systems even have the capability of capturing reclaimed heat during heating and cooling modes to heat domestic water. This application can reduce the water heating cost of a four-person household by as much as 50-60 percent!

Longer Life Cycle: Geothermal systems typically last for 20-24 years, and your loop field lasts even longer with a life expectancy of 50+ years. Your traditional system averages just 13-15 years.